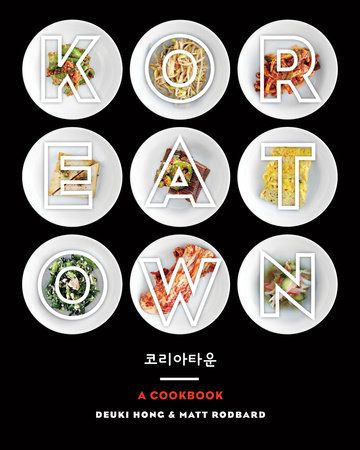 KoreaTown By Deuki Hong and Matt Rodbard
Focusing on Korean American food as it's seen throughout the US, KoreaTown takes you on a tour of small communities and late night venues to highlight their quirks and more importantly, their amazing food.  Along with Korean American recipes, the book focuses around interviews to give a face to both patrons and perveyors of Korean food in America.
Koreatown starts with a brief guide to ingredients specific to Korean cooking including: Perilla, Murin, Sake, Jeon Mix, Makgeolli, sesame oil and many others.  Likely a few ingredients you've heard of,  but many that I'd never experienced.
The book is broken up into 9 chapters, and includes over 100 recipes, including:
Kimchi & Banchan- 35 pages of fermented awesomeness and tasty starters & sides such as kimchi pancakes, spicy marinated crabs, bubbling eggs, soy braised tofu and crunchy sesame bean sprouts.
Rice, Noodles and Dumplings- 38 pages including spicy seafood noodle soup, butter dumplings and aged kimchi dumplings.
Barbecue: Grilled, Smoked and Fried- 24 pages including Marindated short ribs, soy marinated grilled rib eye, and stir fried pork belly.
Drinking Food: Pojangmacha – 34 pages including Whole roast chicken, spicy-sweet shreaded squid and soy marinated beef tartare.
Soups, Stews and Braises- 32 pages including Kimchi Stew, Soft tofu stew and beef bone noodle soup.
Respect: Guest Recipes- 36 pages including Coca Cola and Gochujang Marinated chicken thighs, Doenjang Braised pork belly with Ddeokbokki, and Crispy Tofu sandwiches with muchim pickles and grape jelly doenjang dressing.
Drinks-18 pages including Yogurt Soju, Jameson and Ginger, and Seoul Train.
Sweets and Dessert-14 pages including Toasted rice ice cream, sweet fried pancakes and kimchi white chocolate snickerdoodles.
I received this book from Blogging for Books in exchange for an honest unbiased review.
(Visited 94 times, 1 visits today)
Please follow and like us: