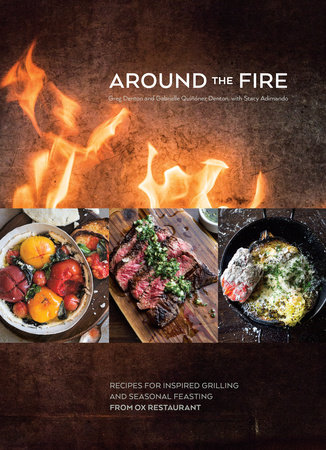 I grew up the child of Argentine immigrants, and family feasts always included traditional meat cuts, large open fires for stewing cauldrons of braised meat, and wood fired grills bigger than your car.  Many of the recipes in "Around The Fire" take me back to my childhood, but most focus around the seasonal and inventive food culture of Portland.  I love the mix of tradition and innovation.
The book opens with basic background about grilling including a discussion of different fuels, direct vs. indirect heat, best ways to start the fire and seasoning directly on the grill.  They also talk about traditional Argentine grilling and how they've tried to both replicate traditional recipes and adapt the traditions to our modern American food culture.
The recipes section opens with a nod to traditional recipes including Chimichurri and Spiced Beef Empanadas, but then quickly diverges to more modern fare including, Broiled Cantaloupe with hand-stretched mozzarella curds and prosciutto, Coal roasted oysters on the half-shell, and Dungeness Crab Bruschetta with avocado, radish and shiso.
The majority of the recipes are simple to create with easily obtainable ingredients, including:
 Clam Chowder with smoked beef marrow bones, green onion and jalepeno
Simple Ceviche with chiles, avocado and popcorn
Salmon Gravlax with orange-chile oil, cucumber and shiso
Grilled Beef Skirt Steak with Onion Marinade
Grilled Maple-Brined Pork Chops
Ash-Seared Lamb Loin with celery, cilantro, charred orange and cumin-chile oil
Grilled Baby Bok Choy with Ecuadorian peanut sauce and hard boiled egg
As in any fancy restaurant cookbook, however, there are quite a few using exotic hard to find ingredients that would take some planning and creative sourcing to pull off at home:
Spicy Tomato-Braised Beef Tripe with poached octopus and mint aioli
Poached squid and octopus salad with fennel, orange and celeriac
Grilled Wild Halibut on the bone with toasted garlic-lemon oil
The authors make good use of the seafood, with recipes for whole trout, salmon, oysters, halibut, albacore tuna, dungeness crab, sea scallops,  and fresh prawns.  There is also a large section of recipes strictly from the garden, where you could source ingredients straight out of your back yard  and transform them with spectacular result.
(Visited 65 times, 1 visits today)
Please follow and like us: