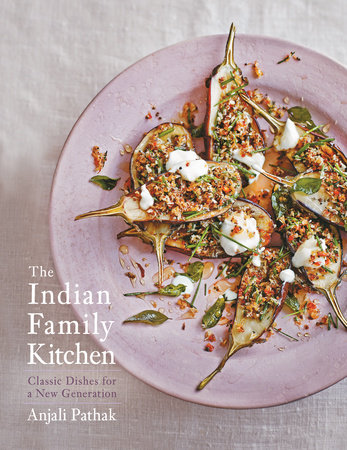 The Indian Family Kitchen – Classic Dishes for a New Generation – By Anjali Pathak
This isn't your average indian cookbook, but rather a new twist on the seasonal farmers market cooking trend that is so prominent these days.  By taking common western ingredients and adding Indian spices and chutneys, you can create a whole new fusion cuisine without having to take a trip to the city or a specialty ethnic store.  The introduction sums up the premise quite well,
"We cook today with seasonal and vegetable-forward recipes….This cookbook shows you how to coax flavor out of your favorite foods by addin gIndian spices: rub butternut squash with garam masala before roasting with salty feta and sun dried tomatoes; marinate chicken wings in a punchy tandoori sauce; and brighten up a quinoa salad with ginger and cumin."
Recipes include: Stuffed zucchini flowers with ricotta and honey, crispy sumac okra, charred baby eggplants, slow-roast spiced lamb, Chai-Smoked Bass, Steak with Cumin Paprika Potato Wedges, Tamarind Glazed Pork, Chile beef with black pepper, balti-baked squash with feta, tomato and mint, roast stone fruit with honey pistachio cream, coconut cardamom rice pudding with carmelized pineapple.
You'll notice not only beef recipes in that list, but generally western meal choices and vegetables.  All of them are heavily spiced with Indian influences.
Anjali takes you through what you should keep in your everyday pantry to create exotic indian fusion in your everyday kitchen, those things include: canned tomatoes, coconut milk, tamarind, tomatoe paste, chickpea flour, basmati rice and lentils.  She also takes you through basic indian spices and uses, including: coriander, cumin, black pepper, mustard seeds, chile powder and garam masala.
Throughout the book, Anjali infuses small doses of indian culture, mostly through personal reflection and family photos.  The book in general is a bit of a memoir of growing up in an indian family, and how she reconciles that with modern western cooking and style.
Overall, it's a great introduction into how to incorporate indian spice and flavors into your cooking.  If you're a seasoned cook, however, with even a basic understanding of indian flavors, you'll find this book lacking.
I received this book from Blogging for Books for this review.
(Visited 78 times, 1 visits today)
Please follow and like us: