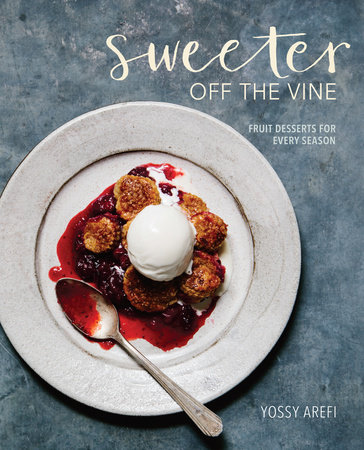 Sweeter Off The Vine: Fruit Desserts for Every Season by Yossy Arefi
I already love fruit and cooking with fruit desserts, and anyone interested in this book likely has already sparked a passion for blackberry cobbler and strawberry shortcake.  Yossy's real innovation here is her use of flavorful whole grains, herbal notes and flower waters to bring out the flavors of the fruit without masking them behind sugar.  Her use of tangy dairy creates balance in her recipes with marscapone, creme friache and buttermilk.  Just about every recipe is a unique twist on an old favorite.
She uses the savory rustic taste of whole grains to setoff the sweetness of her fruits in these recipes:
Spelt Shortcakes with Roasted Stone Fruit
Blueberry Skillet Cobbler with Whole Wheat Biscuits
Rhubarb and Rye Upside-Down Cake
Cornmeal and Ricotta Cake with Cranberries
Here, she utilizes herbal accents to complement the floral aspects of fruit:
Wine Soaked Peaches with Lemon Verbena
Cantaloupe and Mint Yogurt Pops
Apricot and Berry Galette with Saffron Sugar
Pistachio Pound Cake with Strawberries in Lavender Sugar
These recipes balance the sugar with the tang of cultured dairy:
Roasted Apricot and Buttermilk Sherbet
Cherry and Poppy Seed Yogurt Cake
Pear Pie with Creme Fraiche Carmel
In a few recipes she offsets the sugar with more with tangy cultured dairy, herbal notes AND whole grain!  A good exmaple is:
Blackberry and Sage Cream Puffs (with rye flour and marscapone cream)
I received this book from Blogging for Books for this review.
(Visited 105 times, 1 visits today)
Please follow and like us: